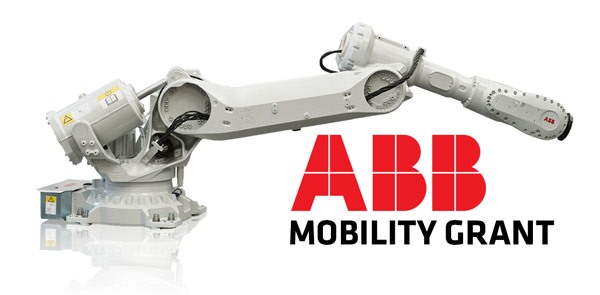 Deadline extended to Sunday, 9.3.2014
The ABB Mobility Grant was initiated by ABB Robotics and the Association for Robots in Architecture to support individuals who  are highly engaged in robotic applications in the creative industry. Three grants with a volume of  1000USD each support the grantee's travel and accommodation costs for Rob|Arch 2014.
It is the goal of the Mobility Grant to financially support individuals who do not have the financial support of academic or commercial institutions but want to engage in the robotic dialogue at Rob|Arch 2014.
Applicants are required to…
…be registered for Rob|Arch 2014 (professionals, students, authors, and non-authors)
…prove that they are not in a position to receive financial support from their institution (e.g. robotic startups, PhD students who are not full-time employees, or individual artists, designers, and architects, etc.)
Excluded are…
…full-time employees at an academic institution
…researchers who are part of a program that funds travelling costs
…employees of a firm/office that is involved in robotics and employs more than 5 people
To apply for the grant, please send an eMail with the documents outlined below until 28.2.2014 with the subject "ABB Mobility Grant" to robots@robotsinarchitecture.org
Scanned PDF of the filled-in and signed application form
1 A4 page with CV and three referees (full contact data)
1 A4 page outlining your "robotic" work and your motivation
4 high-resolution images of your work + 1 of yourself, to be published on the homepage
The grantees will be chosen by the board of the Association for Robots in Architecture and notified on 15.3.2014.
Please note that the grant will be awarded at the conference, with the money transferred shortly thereafter. We're looking forward to seeing you at Rob|Arch 2014!